Cabled Continental Margin Array contains water column and seafloor measurements at the base of the continental slope, as well as focused seafloor measurement around a Methane Hydrate site.
At the Slope Base, water column sensors are deployed on 1) moorings with instrumented wire-following profilers, and 2) two-legged moorings that provide 3 kW power and 1 GB communication to 200-m deep instrumented platforms, and instrumented winched profilers. These provide key insights into a region that is strongly forced by air-sea interaction, shelf-slope interactions with the deep sea, and coupled atmospheric/oceanic phenomena acting to produce variations in North Pacific circulation over gyre scales. On the seafloor next to these moorings are complementary sensors enable interdisciplinary observations of water-column processes that span the continental margin to across the shelf.
Infrastructure on the Southern Hydrate Ridge site provides important insight into actively venting methane hydrate systems, including: defining the temporal evolution of methane hydrate systems in response to seismic events; determining chemical fluxes from the seafloor and impacts on overlying ocean chemistry; and understanding biogeochemical coupling associated with gas-hydrate formation and dissolution.
About the Cabled Array
As the first U.S. ocean observatory to span a tectonic plate, the OOI Cabled Array provides a constant stream of near-real time data from the seafloor and through the water column across the Juan de Fuca plate.
The Cabled Array provides unprecedented power (10 kV, 8 kW) and bandwidth (10 GbE), and two-way communication to scientific sensor arrays on the seafloor and throughout the water column. A shore station in Pacific City, Oregon includes two cable landings serving key sites on the Cabled Array: 1) Slope Base, Southern Hydrate Ridge, and the Endurance Array Oregon Line; and 2) Axial Seamount, and Axial Base. The ~ 900 km of modified telecommunications cable (installed in 2012) provides high power and bandwidth to seven Primary Nodes: PN1A (Slope Base), PN1B (Southern Hydrate Ridge), PN3A (Axial Base), PN3B (Axial Summit), PN5A (Mid-Plate), PN1C (Oregon Offshore), and PN1D (Oregon Shelf).
For more information, check out the Cabled Array related news stories.
Array Diagrams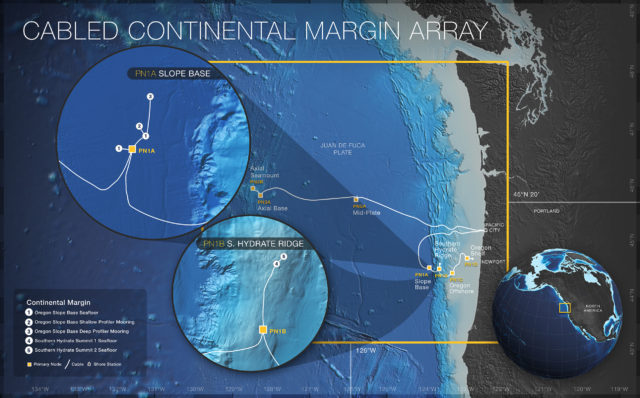 Sites
This array includes following research sites and platforms.